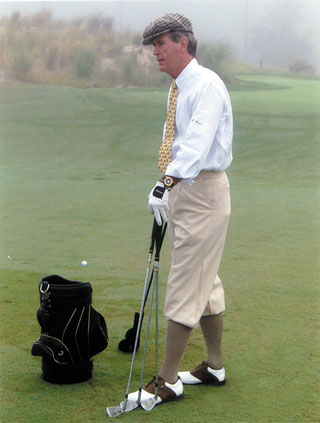 Learning aids for golf are those tools which assist the player in acquiring improved performance. They may convey information visually, verbally, or kinesthetically. When used by a teacher we refer to them as 'teaching aids' but when acquired by and used regularly by the student we refer to them as 'trainable aids'.
The use of such aids in the golf learning environment is not new as samples form the turn of the century are known to exist. But more recently the professional teachers of golf have come to recognize their value in making the learning process easier, more effective and fun. The use of video equipment and now ipads and iphones to get a visual image can make all the difference in performance.
More and more kinesthetic aids to teach feel and position are being created. Examples are items to keep the right knee flexed, the left wrist flat, the body tilt correct, the swing in plane, the head movement controlled, the lateral movement limited, and so on. Specific learning tools are available for specific shots such as the bunker shot, the chip, the pitch, and a car-load of gadgets for putting, together with error correction aids to stop a player slicing, hooking, topping, chunking and so on.
Without question the most complete collection of golf learning aids is at GolfTrainingAids.com, with almost 400 selections for different aspects of the game. Training aids give you feedback and feedback is essential for learning. You may also check out GaryWiren.com to get some video tips for improving your game.
A sensible teaching approach is to acquire those items which focus on the most common problems one faces. In making a selection use the following criteria:



Is it valid? Is what the learning aid is designed for actually desirable in the swing or stroke?

Is it reliable? If the aid either measures or controls something in the swing, does it do son on a consistent basis?

Is it durable? Will it stand up to reasonable use?

Is it simple to operate? Does it require extra staff, a technician or an inordinate amount of time and energy to operate?



Is it cost effective? Can I get my money's worth from using it or selling it to my pupils?
Learning aids are here to stay. The question is, which ones; how should they be used; and how can I make them most effective?

For more enjoyable golf experiences,
Gary Wiren, PhD
PGA Hall of Fame
www.GaryWiren.com
World Golf Teacher's Hall of Fame