Golf Course Architect Ron Garl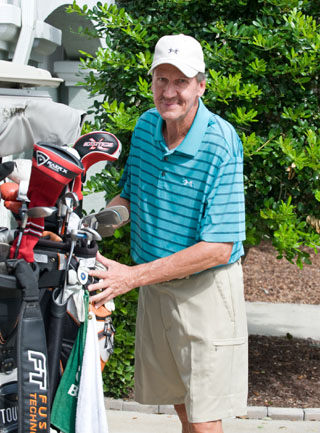 The Florida Golf Course Architecture of Ron Garl
In Vero Beach; at Indian River Club
by Joe Stine, Editor FGM also see www.indianriverclub.com.


Twenty years ago in beautiful Vero Beach, Florida, golf course architect, Ron Garl designed and built an extraordinary championship caliber golf course at Indian River Club. Indian River County's southernmost golf course, Indian River Club is close enough to the Atlantic Ocean to enjoy soft ocean breezes, yet far enough to take advantage of the natural high rolling terrain of an ancient coastal sand ridge with elevations up to 50 feet above the nearby seashore.
Garl, a native Floridian who knows as much about the great coastal ridge as anyone told us that it is actually known as the "Atlantic Coastal Ridge," and dates back around 100,000 years to the Pleistocene Era. "The way I understand it," said Garl, "water levels were much higher back then because there was less ice at the earth's poles. At one time the sand ridge we see today was most likely an ancient barrier island."
Another strong feature of this golf course is the excellent drainage. When many other area clubs need to close as a result of heavy rains and standing water, Indian River Club rarely closes. More often than not, the day following a heavy rain the course has recovered and is ready for play.
Bearing silent witness to the ancient nature of the land, Garl's unique golf course design took full advantage of its high rolling terrain. Embracing the natural beauty of the site, the 18-hole, 7,013 yard, par 72 course is rich in breathtaking views, but ever so sensitive and respectful of the natural environment.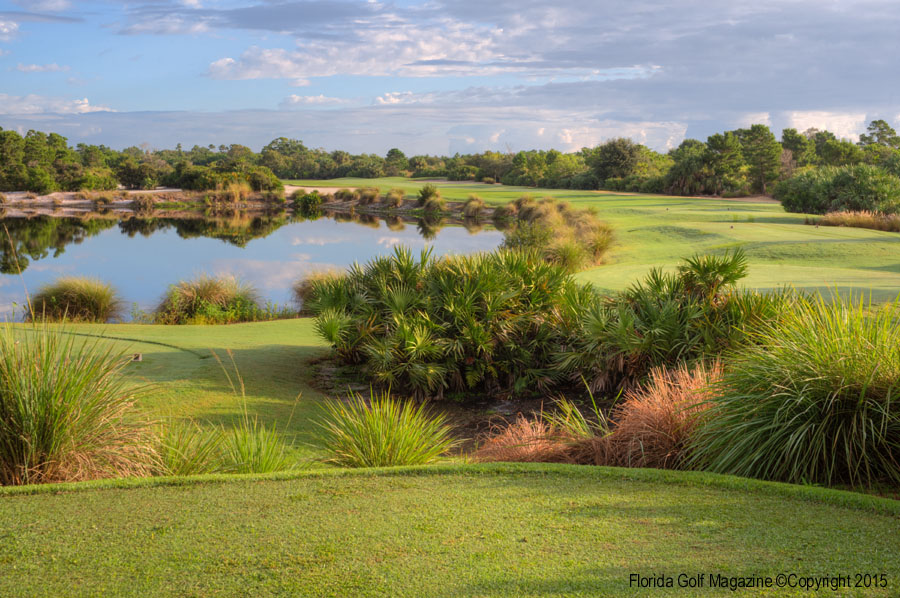 Pictured here, the 416 yard par four, 5th hole at Indian River Club takes advantage of the natural high rolling terrain of an ancient coastal sand ridge known as the "Atlantic Coastal Ridge, with elevations up to 50 feet above the nearby seashore. Photo by Ken E. May.
Indian River Club's Golf Course Architecture
Because of its unique proximity to the great Atlantic Coastal Ridge the golf course at Indian River Club's 120 acre Certified Signature Sanctuary also offers a truly rare cross-section of four distinct and natural environments. The western quarter of the golf course features beautiful stands of old-growth pines; the mid-section has a very genuine 'Old Florida' look and feel with white sugar sand, large clear lakes and marshes; the eastern quarter has hammocks of old oaks and towering sand pines; and holes #5 and #6 play along the ancient coastal sand ridge dunes with elevations up to 48 feet.
In 2015 Indian River Club celebrates 20 years of certification status by Audubon International, only the second certified Signature Sanctuary in the world to reach that goal. Indian River Club maintains its Signature status through an environmentally focused management program that measures efforts in five categories: Habitat Enhancement, Waste Management, Water Conservation, Energy Conservation and Wildlife Conservation. The goal of that management program is to provide a community of lasting value and beauty for its residents and club members in a healthy and sustainable natural environment.
As part of their continuing involvement in the Audubon International Signature Sanctuary Program at Indian River Club the golf course superintendent and his crew continue to maintain many projects including:


Using reclaimed water from Indian River County and St. Johns River Water Management to irrigate all of Indian River Club's golf course and residential properties.


Performing regular silt and soil testing for monthly and annual reports; recycle all machine oil and all water used to clean equipment.


Conserving water by hand treating dry areas as needed. Proper water management also reduces the opportunity for disease development.


Using only slow-release organic fertilizer on the golf course turfgrass.


Following an Integrated Pest Management program (IPM), which is the reduction (not elimination) of chemical usage on the golf course.


Planting and maintaining aquatic plants in the lakes and native grasses that act as buffers around the water perimeters. These provide fish and waterfowl food and nesting cover and act as a filtering buffer system for storm water runoff.


Maintenance of Indian River Club's 13 acre preserve of Scrub Oak and Hickory that was set aside for the Florida Scrub Jay and resident Gopher Tortoises. This area is maintained with regular trimming regulated by Lake Masters and by using signage and fence to prevent golfers from entering. This special fence has also been designed to allow rabbits and foxes to pass underneath.


Significant emphasis is placed on allowing for or retaining naturally occurring standing dead trees as an important habitat component within the golf course environment. These standing dead trees provide nesting habitat for primary cavity nesters, such as woodpeckers, which in turn provide nesting and shelter habitats for secondary cavity nesters, such as bluebirds, wood ducks and owls.


The Pelican Island Audubon Society also conducts a monthly "Bird Walk" at Indian River Club and has done so since the start of construction. Members and residents are encouraged to participate. A spotting guide based on birds actually seen on site, is distributed to participants.
"The members appreciate the steps necessary to maintain Indian River Club's Signature certification status," said superintendent Bobby Wallace. "We're stewards of the environment. We have more than 3,000 species of plants and animals that live at Indian River Club and our membership is proud of what we do."

While playing this hole with Florida Golf Magazine, Architect, Ron Garl stopped to identify a Gopher Tortoise in front of the tee-box. Also built on the ancient coastal sand ridge known as the "Atlantic Coastal Ridge, the natural setting of the back tees of the 394-yard, par 4, sixth hole, named "Scrub Jay," is surrounded by Indian River Club's 13 acre preserve of Scrub Oak and Hickory that was set aside for the Florida Scrub Jay and resident Gopher Tortoises. Scrub Jays and Gopher Tortoises are both endangered species. Photo by Ken E. May.
Audubon International
Since 1991, Audubon International has worked with properties and businesses to provide third party verification that those businesses have taken measures to reduce their impact on the environment. When golf course managers agree to and adhere to specific guidelines governing water conservation and quality control, wildlife and habitat management, outreach and education, and chemical use reduction, courses become eligible for designation as certified facilities.
Two Audubon International programs guide golf course management: the Signature Program and the Audubon Cooperative Sanctuary Program. The Signature Program began in 1993 as a way for Audubon International to assume a leadership role in working with developers on new construction projects for the purpose of promoting sound land management practices and appropriate land use changes based on scientific research.
Golf courses like Indian River Club that are designed, constructed and operated in accordance with Signature Program guidelines are eligible for Signature certification. According to Nancy Richardson, Audubon International's Signature Program Director, "Landowners and managers develop their projects according to a set of Principles for Sustainable Resource Management which guides the program process. Each member produces a site-specific natural resource management plan, a framework for management outlining the long term management of the course." Indian River Club is the only Certified Signature Sanctuary in Indian River County.

Sandhill Crane parents teaching their young what critters are good to eat at Indian River Club in Vero Beach
"In regard to Indian River Club, Nancy Richardson, Audubon International's Signature Sanctuary Program Director, "Early on, folks involved with Indian River Club recognized the importance of protecting its most valuable asset-- its natural environment. Entire ecosystems were preserved, habitats were enhanced, thousands of native trees including huge specimen oaks, were transplanted out of the way of development, acres of exotic/invasive plant species were removed, and native drought-tolerant plants were introduced into community landscaping."
Indian River Club's development philosophy has always been "Good environmental planning makes good economic sense." Audubon International believes that as well and sees environmental planning and protection as a priority when assessing a site for development." said Richardson. "Now because of that planning, residents living within Indian River Club, enjoy a protected place where seeing Sandhill crane adults and their little 'colts' is a frequent occurrence, where seeing a swallow-tailed kite is an exciting event, and where a quiet, social and natural lifestyle remains the path that the community has chosen."

Grey Fox Kits keeping an eye out for mom. Photo taken at Indian River Club in Vero Beach.
Community Overview
Located at the very southern end of Vero Beach and less than a mile from the spectacular Indian River Lagoon, the Indian River Club is a beautiful community noted for its friendly, outgoing atmosphere and challenging golf.
The community sits on an exceptional 300 acres which is home to well preserved old growth pines, a rare coastal scrub jay habitat and pristine lakes. Into that environment has been inserted a world class eighteen hole golf course and 243 home sites, all done with enough care to maintain the special designation of an Audubon International Signature Sanctuary.
Of the 211 total single family lots in the community, all but 40 have been completed and have occupied homes on them. Three of four possible eight unit condominium buildings are built and occupied. The community is in a healthy real estate market and provides good opportunities to acquire attractive, existing homes or to buy new. The Indian River Club residential community is managed by a professional property management company and has a well established and proactive Homeowners Association.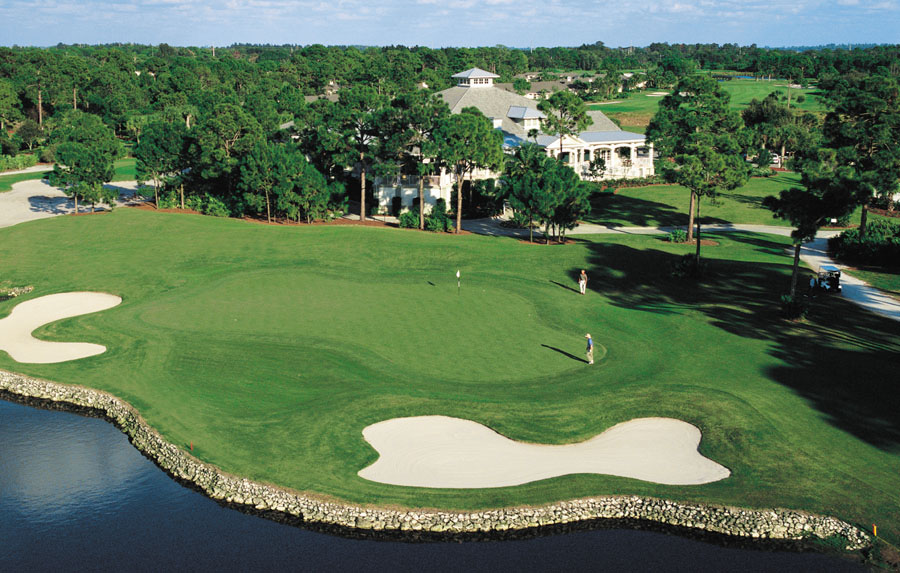 An aerial photo of the green of the 18th hole at Indian River Club which is aptly named, "On the Rocks".
Membership at Indian River Club
Indian River Club is a private golf club. Membership Director, Stu Burk says, "Our mission is to provide a superior golf experience to golfers of all skill levels by protecting the beauty and condition of our Audubon International Signature Sanctuary golf course while preserving the uniquely friendly atmosphere that has set this private golf club apart since its inception."
"We have the best Members anywhere, fun events planned for the new season, and Indian River Club's golf course is second to none in Vero," says Stu. "Our executive chef continues to wow us and our golf operations staff makes each member's visit a pleasurable one. And, for the benefit of our members & guests we have onsite lodging accommodations at our charming lodge located on number 9 fairway." To learn more or to visit Indian River Club call Membership Director, Stu Burk at (772)770-0757 or email stu@indianriverclub.com.
"If you are a serious Florida golfer looking for the perfect private club, Indian River Club in Vero Beach is a must see"


Also see www.indianriverclub.com.