Trump National Doral Miami, known as host to the PGA TOUR for over 50 yeafirs, and home to the World Golf Championships-Cadillac Championship, joined The Trump Hotel Collection's portfolio of spectacular five-star hotels when it was purchased by Donald J. Trump in 2012.
Steeped in tradition, the heart of Doral has long been the historic golf course called the "Blue Monster." Only Colonial Country Club in Texas and Augusta National have hosted the PGA TOUR pros longer than Doral's storied Blue Monster. Next year, in March of 2015, the Cadillac Championship - a World Golf Championship - promises to be even more spectacular as the resort celebrates its 53rd anniversary.
The history of Miami's iconic golf resort started way back in 1959 when Doris and Alfred Kaskel decided to build the Doral Hotel and Country Club (named from a combination of their names) and opened it in 1962, welcoming golfers to a new clubhouse and the Blue Monster. That same year, the Kaskels hosted the Doral Open Invitational, one of Florida's earliest PGA events, which also benefited the American Cancer Society, and a grand tradition of annual PGA tournaments on Doral's Blue Monster was born. It was the largest purse in Florida at the time at $50,000 and one of the top purses on the PGA TOUR in 1962.
The tournament was played from 1962 to 2006. Then, in 2007, the introduction of the FedEx Cup caused a change in the PGA TOUR schedule. The WGC-CA Championship, a World Golf Championship event cosponsored by the PGA TOUR, moved from October to March and took the Doral Open's spot on the schedule. This championship was renamed the World Golf Championships-Cadillac Championship in 2011.
Architect, Dick Wilson 1904-1965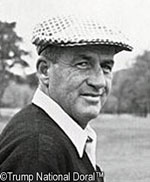 When Alfred Kaskel hired Dick Wilson to design a championship-caliber course at Doral in 1960, Wilson was one of the very best golf course architects of the post-World War II era.
Born the son of a contractor in 1904, Wilson grew up in Philadelphia where he got an early taste of golf course construction as an assistant/water-boy during the construction and re-designing of Merion Golf Club. A fine athlete who attended the University of Vermont on a football scholarship, he joined the design team of Bill Flynn and Howard Toomey after college. Wilson became a construction superintendent with Toomey and Flynn, and oversaw the implementation of Flynn's re-design work at Shinnecock Hills in 1931. The Depression's impact on the golf course design business eventually forced Wilson to take a job as a pro/greenskeeper at Delray Beach (Fla.) Country Club.
Pete Dye, who also has an appreciation of Dick Wilson's work said that his father, "Pinky," spent quite a bit of time playing golf with Wilson at Delray Beach Country Club in the 1930s. "After the war, there was a need for golf courses," said Dye. "Dick was a good player, and he made a strong golf course." A subtle version of Wilson' work during this era can be found at Seminole, where Wilson updated Ross's scratchy bunkers and gave them a more - modern curvilinear form.
The Blue Monster's par-4 18th is Wilson's most famous hole. The closer has always required two perfect shots: a tee shot that avoids water on the left and a bunker complex and trees on the right and then an approach over water into a narrow green that slopes toward the hazards. The Blue Monster's 18th hole has long been known as one of the toughest holes on the PGA TOUR.
Wilson often relied upon elevating the putting surfaces. He did it at Bay Hill in Orlando (1961) and even more so at Doral-Blue in Miami (1962). In the absence of any native elevation change, this was how he created both visibility and drainage. Also, he would usually set the axis of the green diagonally 30 to 45 degrees, and then place a sprawling bunker on the inside of the short angle.
The result was instant strategy, with the front portion of the green open and the back part accessible only to a strong, accurate shot. More often than not Wilson's reliance upon the modern power game of aerial golf was also evident in his large putting surfaces.
Wilson incorporated the many man-made lakes at Doral for two reasons. Firstly, because it made the course challenging, and secondly, and most importantly, digging out lakes gave him the fill he needed for building up his tees and greens.
Today, a generation after his passing, Dick Wilson's designs rank among the country's most recognizable for their spare, modernist style, and strategic bunkering. It was a formula that typified the age.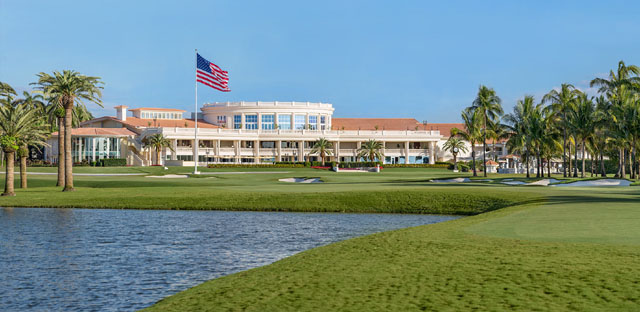 The beautiful new clubhouse at Trump National Doral Miami sits behind the 18th green of the Blue Monster.
Now, more than five decades after his death at age 61 in 1965; Wilson is back in the spotlight as the "newly redesigned" Blue Monster re-opened in spring of 2014 after a major renovation by world renowned golf course architect, Gil Hanse.
Donald J. Trump bought the iconic golf resort, which was in bankruptcy, for $150 million on June 11, 2012. Work on the Blue Monster began on April 1, 2013, a few weeks after Tiger Woods won the 2013 WGC-Cadillac Championship. Construction proceeded smoothly and the course officially re-opened for play on Dec. 13, 2014.
When the PGA TOUR arrived in March 2014 for the WGC-Cadillac Championship, Winner - Patrick Reed and the other players found a longer, more challenging layout that was much improved yet still very true to the original Dick Wilson design and the fans also found it to be better viewing with better lines of sight and massive mounding and more access to the players and the holes they wanted to see. Likewise, the Golden Palm, Red Tiger and Silver Fox courses will all be brand new and spectacular.
Situated on nearly 800 acres in the heart of Miami, Florida, Trump National Doral features five championship golf courses, including the legendary Blue Monster. The golf resort also boasts 700 expansive guest rooms & suites, designed by Ivanka Trump and world-renowned architects WATG including newly redesigned Deluxe Villa Guestrooms, Garden View Rooms and Golf View Rooms as well as the luxurious Suites at The Spa at Trump National Doral.
The newly renovated Miami Resort offerings also include more than 100,000 square feet of indoor and outdoor spaces and luxurious ballrooms. The resort's new recreational amenities include new pools, fitness facilities, golf practice facility, retail shops, indoor and outdoor restaurants & bars, a full-service Spa and Salon and an extensive children's program.
Historically, Doral has long been regarded as one of the most exceptional golf resorts in the world and the completion of the ongoing $250 million renovation signifies the Trump family's continued commitment to restoring and surpassing that reputation. "Right now," says Trump, "our focus is completing our vision for this iconic property and making it the epicenter of Miami tourism for many years to come."
Trump National Doral Miami is very much a sought after global golf destination that world-travelers and residents alike can enjoy. If you're a serious Florida golfer, don't worry, the legendary Blue Monster is still open to the public for daily fee play just like it's been for the last 50-some years, and so are Trump National Doral's other four championship courses. But, if by chance you also wish to vacation for a day or two, rest assured that there is no finer golf resort in Florida than Trump National Doral® Miami.
Pages 16 - 17 - Summer 2014 Florida Golf Magazine ©Copyright 2014, All Rights Reserved.



Trump Golf Commits to Environmental Certification by Audubon International


The Gary Player Villa at Trump National Doral Miami, Gary Player & Trump Family Preside Over Grand Opening


Tiger Woods attends Opening of The Tiger Woods Villa at Trump National Doral Miami


Trump National Doral's Newly Re-imagined Meeting & Event Space


Unveiling The "New" Blue Monster at Trump National Doral Miami, by Joe Stine