Tiger Woods was on hand along with Donald J. Trump and his family for the grand opening of the brand new Tiger Woods
Villa on March 5th 2014, the day before the first round of the 2014 World Golf Championships-Cadillac Championship at Trump National Doral Miami.
Before the ceremonial ribbon was officially cut Mr. Trump said, "Tiger Woods is a very special champion and a total winner. As you know, we've named eight of the ten great villas we're building, naming them after the top ten greatest players in the history of golf. Frankly, if Tiger would have said no, I couldn't have done that. Tiger, I have to say, on behalf of the Trump family it's my honor to name this the Tiger Woods Villa."

Tiger Woods and Trump Family at the Tiger Woods Villa Ribbon Cutting Ceremony 2/5/2014
Woods said in regard to Doral, "What Donald has done with this place is phenomenal, and he does nothing halfway, Doral has totally changed and changed for the better.
Very much like the Gary Player Villa that was christened a month earlier, the Tiger Woods Villa is decorated throughout with a collection of beautifully framed photographs depicting the high points of Tiger's illustrious golf career.
One of eight new deluxe guestroom villas designed by Ivanka Trump and world-renowned architects WATG, the Tiger Woods Villa is decorated with a chic palette of elegant neutrals – including ivory, champagne and caramel – accentuated with mahogany wood and gold leaf Spanish revival details. The classic furnishings paired with its contemporary accents present the ultimate in luxury interiors. The spacious bathrooms more closely resemble in-room spas with frameless showers, rainfall showerheads, marble flooring throughout, and imported stone countertops and vanities.
All the deluxe villa guestrooms and suites boast beautiful golf course or garden views with expansive balconies or lanais.
The eight new villas at Trump National Doral each contain 12 to 24 deluxe guestrooms and - or suites depending on their unique configurations. The Tiger Woods Villa was the second of eight deluxe guestroom villas to be completed in 2014.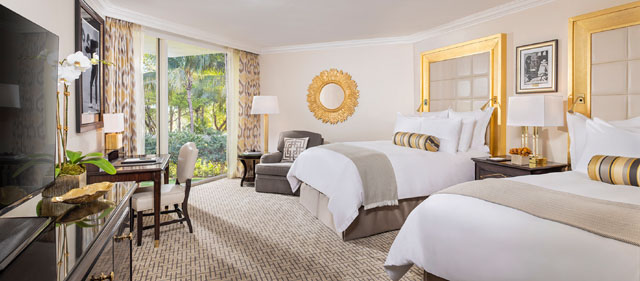 The Tiger Woods Villa is one of eight custom designed deluxe guestroom villas at beautiful Trump National Doral Miami.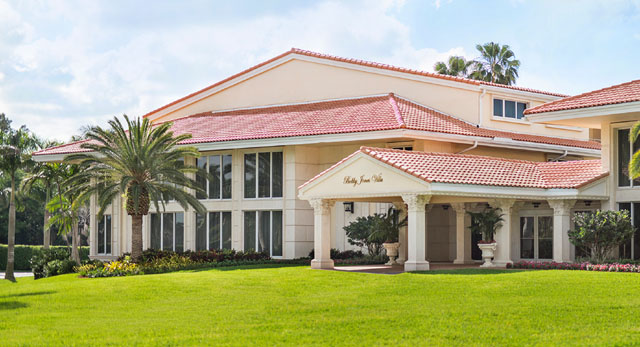 Pictured here is the Bobby Jones Villa. There are eight deluxe guestroom villas at beautiful Trump National Doral Miami, each with an assortment of luxurious guestrooms and suites. The eight beautiful villas are named after Arnold Palmer, Ben Hogan, Bobby Jones, Gary Player, Jack Nicklaus, Phil Mickelson, Sam Snead, and Tiger Woods.



Trump Golf Commits to Environmental Certification by Audubon International


In Miami: Florida's #1 Golf Resort Trump National Doral Miami


The Gary Player Villa at Trump National Doral Miami, Gary Player & Trump Family Preside Over Grand Opening


Trump National Doral's Newly Re-imagined Meeting & Event Space


Unveiling The "New" Blue Monster at Trump National Doral Miami, by Joe Stine