The staff at Remington Golf Club in Kissimmee, Florida present a big check to Texan, Krista Puistie for winning the National Women's Golf Association Championship.
One of the nation's most competitive professional tours for women not on the LPGA Tour completed its 2015 Championship at Remington Golf Club in Kissimmee, FL. Krista Pusisite, an LPGA veteran from Austin, TX shot rounds of 68, 66,70 for a 204, 12-under par at the 6,400-yard Kissimmee layout to capture the championship and the first place check of $6000. Orlando resident Yueer Feng was second at 10-under par. Paula Reto of Coral Springs, FL shot a course record 63 in the final round to finish in a tie for third place with South African Fiona Puyo.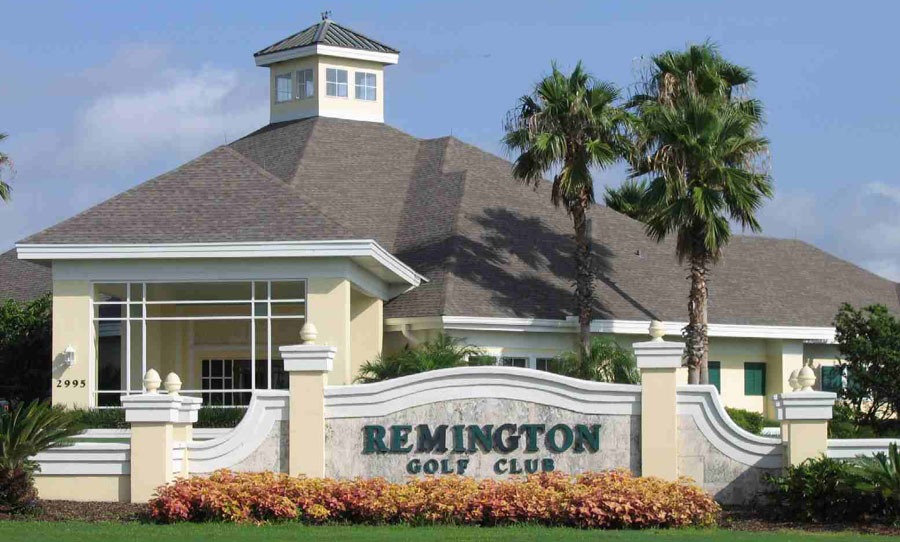 The NWGA event had 65 players from 15 countries with several of the players having status on the LPGA Tour.

Top 25
| | | | | |
| --- | --- | --- | --- | --- |
| 1 | Krista Puisite | Austin, Tx | 68-66-70-204 | -12 |
| 2 | Yueer Feng | Orlando, Fl. | 73-68-65-206 | -10 |
| T3 | Paula Reto | Coral Springs, Fl. | 74-70-63-207 | -9 |
| T3 | Fiona Puyo | South Africa | 69-67-71-207 | -9 |
| T5 | Jennifer Ha | Calgary, AB | 69-71-69-209 | -7 |
| T5 | Ruixin Liu (a) | Orlando, Fl. | 68-70-71-209 | -7 |
| 7 | Ana Menendez | Raleigh, NC | 72-67-71-210 | -6 |
| 8 | Jessica Welch | Jacksonville, Fl. | 72-69-70-211 | -5 |
| T9 | Michele Nash | Windermere, Fl. | 71-73-68-212 | -4 |
| T9 | Christina Miller | Bradenton, Fl. | 75-68-69-212 | -4 |
| T11 | Sandra Changkija | Orlando, Fl. | 73-68-72-213 | -3 |
| T11 | Jennifer Gleason | Clearwater, Fl. | 68-68-77-213 | -3 |
| T13 | Alex Milan | Lutz, Fl. | 75-70-71-216 | E |
| T13 | Carlie Yadloczky | Casselberry, Fl. | 72-72-72-216 | E |
| T13 | Jacey Chun | Winter Garden, Fl. | 74-70-72-216 | E |
| T13 | Adrienne Plourde | Port Orange, Fl. | 73-71-72-216 | E |
| T17 | Stephanie Meadow | Hilton Head, SC | 72-73-72-217 | +1 |
| T17 | Csilla Lajtai-Rozsa | Latvia | 73-71-73-217 | +1 |
| T17 | Elisa Serramia | Miami Beach, Fl. | 74-70-73-217 | +1 |
| T20 | Monifa Sealy | Howey in the Hills, Fl. | 75-70-73-218 | +2 |
| T20 | Jaclyn Jansen | Effingham, IL | 74-68-76-218 | +2 |
| 22 | Anna Lesher | Ashland, OH | 71-73-77-221 | +5 |
| 23 | Kate Scarpetta | Crystal Lake, PA | 69-74-79-222 | +6 |
| 24 | Courtney Boe | Windermere, Fl. | 72-72-79-223 | +7 |
| 25 | Natalie Goodson | Hudson, OH | 72-73-79-224 | +8 |