The 2013 Florida Open for Golfers with Disabilities was held on October 26th, 2013 in Kissimmee, Florida. The 8th annual 'all-inclusive' open tournament was played on the Clifton, Ezell & Clifton designed golf course at Remington Golf Club in Kissimmee and was an awe-inspiring success and a lot of fun for all the participants.
This not-for-profit tournament was graciously hosted by the generous folks at Remington Golf Club and went off without a hitch. Bill Stine the course owner at Remington Golf Club should be commended for volunteering to be involved with this year's event. Remington Golf Club is a prestigious venue and all the players were grateful and very much appreciated its fine conditioning and ambiance.
The open tournament was founded in 2006 by Florida Golf Magazine with the help of some initial 'much needed' guidance provided by the National Alliance for Accessible Golf. Just as it has been since its inception, this tournament is definitely not-for-profit. The bare-bones entry fee of $50 has always included 18 hole green fees, an award banquet, range balls and prizes. This open tournament raises no money for any cause, nor does it try to get anyone to join any organizations or foundations of any kind. The goal of this 'all-inclusive' open tournament has always been to have fun playing golf, while raising awareness of accessibility issues concerning golfers with disabilities and/or mobility challenges.
An eclectic group of golfers participated in 2013, rallying once again to raise awareness for accessibility issues concerning golfers with disabilities and-or mobility challenges. But more importantly, they came to bond with their peers and support one another while "having fun" playing golf.
Participants of the 8th annual tournament included golfers of all levels of abilities. As in previous years, several members and representatives of the Amputee Veterans of America Support Team (AVAST), Eastern Amputee Golf Association (EAGA), Southern Amputee Golf Association (SAGA) and the National Amputee Golf Association (NAGA) competed in the open tournament, some of whom wore prosthetics and some who didn't. But make no mistake; this all-inclusive tournament was not just for amputees. There was a diverse group of golfers participating that were mobility challenged from the effects of a wide range of conditions, including strokes, paraplegia, and traumatic brain injuries.
In a conscious effort to be all-inclusive, golfers without disabilities are also always encouraged to play in the open tournament, along with their friends with disabilities, and are eligible to compete for the Overall Low Gross Award, and of course, anyone with a USGA Handicap is also eligible to compete for the Male and Female Low Net Awards. As always the player with the lowest gross got the honor of having their name inscribed on the permanent open tournament trophy.
| | |
| --- | --- |
| Virgil Price, a St Petersburg resident and Treasurer of the National Amputee Golf Association (NAGA), dominated the inaugural tournament in 2006, winning 1st Place overall, scoring a gross 72 on the challenging 18 holes at Kissimmee Bay. | Mike Hudson shot a 75 to win 1st place Overall in the 3rd Annual Florida Open Tournament for Golfers with Disabilities and/or Mobility Challenges held on 7/14/2008. Born with one hand, Mike Hudson is a Volunteer Golf Instructor in Pasco County. |
| Tampa resident, Monroe Berkman, a polio surviver, won the 2007 Florida Open Tournament for Golfers with Disabilties, playing every shot, including sandtraps from his SoloRider Adaptive Golfcar. Berkman, who shot 80 had no problems hitting out of the bunkers using his stand-up seat to support him during his full golf swing. | Stroke survivor, Ian Halliwel came all the way from England and shot a 74 to win 1st Place Low Gross in the 2009 Florida Open Tournament for Golfers with Disabilties and/ or Mobility Challenges. Now his name is also inscribed on the prestigous Open tournament trophy. |
| Dale Dawson, a 47 year-old Palm Beach Gardens resident who suffers from debilitating tremors shot a gross 71 to win the 2011 Open Tournament. | Robert McIntyre, a 43 year-old Palm Beach Gardens, Disabled Veteran wounded in Iraq won the 2012 Open Tournament. |

Strongman Steve Shipuleski, from Palm Beach Gardens, who golfs one-handed won the open tournament in 2010 and 2013. Steven was the Low Gross, 1st Place Winner of The 2013 Florida Open for Golfers with Disabilities. His wife Deborah Shipuleski, who is standing in the background, won the 2013 tournament Female Low Net category.

Golf is an individual sport that breeds unique characters. No two golfers are exactly alike; hence, no two swings are exactly alike. It is said that a golfer's swing is a very personal thing, much like one's religion. Each golfer must learn to repeat a swing that moves the clubhead into impact in the most consistent manner possible based on his own body and what it can do.
The 2013 Florida Open for Golfers with Disabilities and/or Mobility Challenges was won by 43 year-old Palm Beach Gardens resident Steve Shipuleski. Shipuleski who plays golf with one hand, has a 14 handicap, and plays most of the time at the Golf Club of Jupiter.
Although Steve is tall at 5'11", he says that he shortened and re-gripped all of his own clubs himself. He also says that he was born without the use of his left hand and since he plays golf right handed, and the right hand is normally held lowest by right handed golfers, that shortening the length of the shafts gives him more control.
Shipuleski also said that he could drive the ball farther by swinging backhanded like a lefty but has more control and finesse with his short game when he swings right handed. So, even though he is capable of playing either way, addressing the ball with a right handed swing is a conscious decision on his part.
Shipuleski's wife, Deborah, seen in the background of the photo below also participated in the open tournament and won the Female Low net award.
| | |
| --- | --- |
| Steve Allberry won 2nd Place Low Net with a beautiful cross handed grip. | "Best of friends," amputee, Tom Walters, traumatic brain injury survivor, Charles Brugh and stroke survivor, Ian Halliwell play together every year. |

Seen here demonstrating excellent sand play, Doc Milligan won 5th Place Low Net.

Making an investment in golfers with disabilities is a hot new trend in the business world, and according to a census bureau report, one in five U.S. residents has a disability. That's about 18% of the U.S. population or 57 million people. More and more people, such as inventors, designers and golf course owners, are now making an effort to address the needs of golfers with disabilities. And, this tournament lets everyone have a lot of fun while raising awareness of these issues.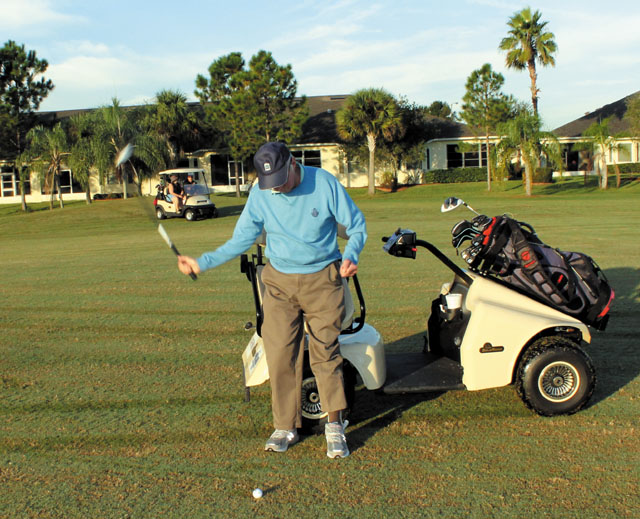 Sarasota resident and stroke survivor, Joe Boyd competed in the open tournament using a SoloRider adaptive golf cart
Golf is the culmination of mind and body integration and significant improvement as a result of participation in the game demonstrates determination, patience, and growth as a person.
Traumatic Brain Injury (TBI) survivor Charles M. Brugh, who competes in this tournament every year, told us, "The neurological, psychological and physical benefits of golf are precisely why GOLF is a cornerstone of my extended efforts to conquer Traumatic Brain Injury."
"I consider GOLF the equivalent of graduate study in neurological rehabilitation at a prestigious university," he said. "It's just that good. I implore my fellow survivors of brain injury to pick up a club and smack that little white ball around. From much personal experience, it is with absolute certainty that I tell you: Golf is positive and meaningful as a therapeutic modality! Done consistently, as part of an overall therapeutic regime, GOLF will greatly enhance both your rehabilitation and your life."
If you would like to help raise awareness of accessibility issues concerning golfers with disabilities, come play in our open tournament. - see www.floridagolfmagazine.com/open or call 863-227-2751
There truly is something about golf that brings out the best in a person, and nowhere is this made more evident than at the Florida Open for Golfers with Disabilities and/or Mobility Challenges.