Steve Whidden, PGA Master Professional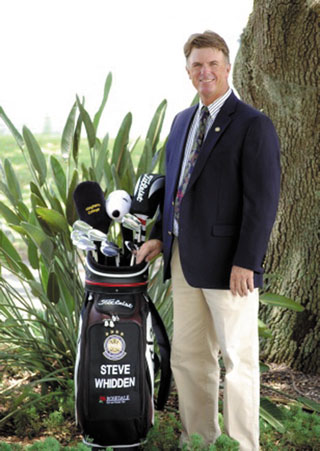 We are all individuals, we are all different. When I teach I let a student remain as individual as possible, but one thing has to be on for them to be a good ball striker…impact.
To be a good chipper, pitcher, iron player, hybrid player and fairway wood player and a much happier golfer, the student has to have just a couple of basics down.
For correct impact to happen, the hands must lead the club head into impact, creating a good forward lean of the shaft with the divot happening after the ball. This is the key. The ball must be hit before the ground is hit.
A great drill to get the feeling of "squeezing" the ball first is to get 2 golf balls. Set up to one and put the other 2 club head widths directly behind the ball you are going to hit. Your objective is to hit the forward ball without hitting the back ball on either the backswing or, more importantly, the downswing. Since most players release their wrists too early in the downswing creating a scooping motion, this back ball will keep them from doing this deadly motion, or they will hit the back ball.
This drill teaches the player to lead with the hands through impact create proper lean in the shaft and creates the proper angle of attack for much more solid ball striking.
About Steve:
Steve Whidden, 2010 Southwest Florida PGA Teacher of the Year, whiddengolf.com
Dir. of Instruction, The Steve Whidden Golf Academy, Rosedale Golf & Country Club,
5100 87th Street East , Bradenton, Florida 34211,~(941) 756-0004~swhidden@pga.com