Pictured here at Broken Sound Club in Boca Raton, Florida, 2011 Champion Tom Lehman is a favorite each year at The Old Course during the PGA Champions Tour Allianz Championship. (All photos courtesy of Broken Sound Club)
BROKEN SOUND CLUB: WHERE AVID GOLFERS LIVE & PLAY
The Only Private "Two Golf Club"
Residential Community In Florida
by Bonnie S. Kaye

Home to the PGA Champions Tour Allianz Championship for the seventh consecutive year, The Old Course at Broken Sound Club, one of the premier residential community's two golf courses, is front and center once again in the first full-field tournament in February's early season Florida swing. More than 70,000 spectators will be on-site as Corey Pavin hits the green to defend his 2012 title and vie for the $1.8 million purse at the 2013 PGA Champions Tour tournament, one of the top-rated events on the Tour. This year's celebrated roster of golf legends to triumph on this storied course includes 2011 champion Tom Lehman (2011 and 2012 Charles Schwab Cup season-long points race winner), 2010 champion Bernhard Langer, Hale Irwin, Mark Calcavecchia, Fuzzy Zoeller, Nick Price, Tom Kite, Hale Irwin, Curtis Strange, Peter Senior, Mark O'Meara and Ben Crenshaw plus rookies Steve Elkington and Rocco Mediate.

"It meant a lot to me to win here; this is probably my favorite course on the tour," Corey Pavin shared with reporter Marci Shatzman at this year's Allianz Championship Media Day for her recent article published in the Sun-Sentinel. He told her that "it plays tough and there are a lot of tricky shots. You have to think your way around the course."

Allianz Championship By The Numbers
400,000 – Approximate number of Allianz Championship spectators since 2007.
30,618 – Number of holes of Championship Play at the Allianz Championship since moving to Boca Raton seven years ago.
$1.8 million – The total value of the tournament's 2013 purse.
150 million – Number of households reached in 174 countries by Golf Channel coverage of the 2012 event.
2/3 – Two of the past three Allianz Championship Winners have gone on to win the year-long race for the Charles Schwab Cup, leading the tournament to adopt the phrase "it all starts in Boca."
92% — Amount of tournament materials that were recycled as part of a ground-breaking "green" initiative, making the Allianz Championship one of the most environmentally friendly events of its kind.
$15 million – Total economic impact the Allianz Championship brings to the local area each year.
8 – Number of major "events within the event" as part of the week-long tournament schedule.
1 – Number of beneficiaries of the Allianz Championship; all net proceeds to benefit Boca Raton Regional Hospital.
With all three Allianz Championship rounds televised live on the Golf Channel, more than 150 million households from 174 countries around the globe have witnessed some of the Champions Tour lore on The Old Course in real time. Two of the past three winners have gone on to win the year-long chase for the Charles Schwab Cup Championship, leading the tournament to adopt the phrase "It all starts in Boca." The 2012 champion Corey Pavin and 2010 Champion Bernhard Langer both hit signature shots during their wins that have gone down as some of the most difficult in Champions Tour history. Pavin, faced with an impossible lie on a tree root, turned his 8-iron backward and chipped left-handed over the cart path, uphill, rolling to within five feet on the par-3 14th hole, en route to his first tournament victory in more than five years. Langer, playing in his hometown of Boca Raton, holed out for an eagle on the first playoff hole from a bunker 45 feet away from the pin. Both player-challenging and spectator-pleasing shots are brought up whenever the Allianz Championship is mentioned and serve as a testament to the challenge presented by The Old Course – that even the pros sometimes need a little magic to win here.
"The Old Course is certainly a jewel in the crown of the City of Boca Raton," proclaimed Boca Raton Mayor Susan Whelchel. We are pleased that it has been chosen by the PGA for seven consecutive years, as millions of viewers are focused on the tournament and Boca Raton and spectators from near and far visit the Allianz Championship."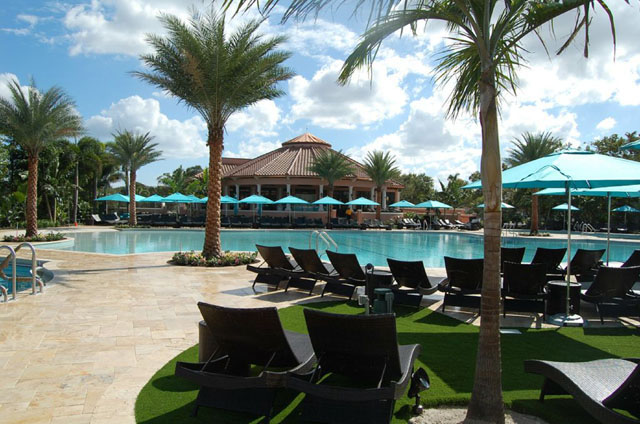 GREAT TO LIVE & PLAY WHERE THE CHAMPIONS COMPETE
Pictured Above & Below) New $6 million poolscape and bistro is a true Oasis On The Green with lap pool, kids' pool area, heated whirlpool, contemporary free-form pool with tropical style grotto, lush landscaping and waterfalls.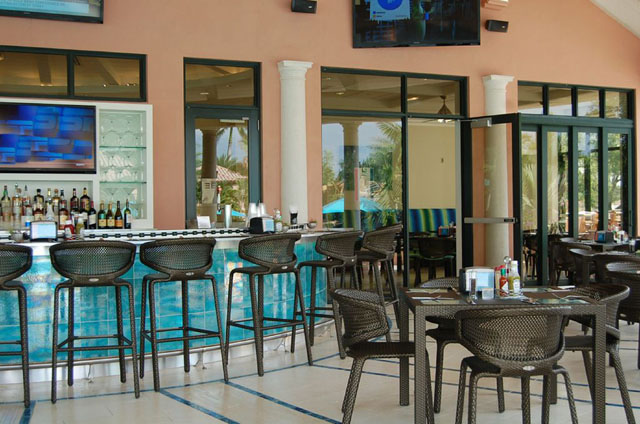 While the PGA legends visit once a year, the avid golfers who call Broken Sound Club home enjoy their own personal celebrated moments all year 'round on the green right in their own rare, private "two-club" golf community. Living in a community with the prestigious 5-Star Platinum Club of America designation awarded to only 150 out of 5,000 private clubs in the country -- with its recently completed extensive two-acre, $6 million resort-style poolscape and bistro and new $7 million spa and fitness center set to open just before Valentine's Day -- offers serious golf play each and every day.
"Residents love the opportunity to be members of two world-class courses with two clubhouses within minutes of their home and minutes from each other," notes Broken Sound Club President Ivan Snyder who joined 20 years ago when he moved with his wife Irene from Denville, New Jersey. "When avid golfers are choosing where to live in South Florida, having a two-club lifestyle is a real 'game-changer' for those from the Northeast and Midwest who are buying a second home in Florida with plans to eventually transition to full-time residency, or for those living inside or outside of South Florida who are making year-round relocation. Many of our members are or have been longtime members of golf clubs in Chicago, Bloomfield Hill, Philadelphia, Boston, Baltimore/D.C., Long Island Montreal and Toronto who want a similar experience when they buy a home in Florida."
Bernhard Langer's winning shot at the 2010 Allianz Championship at The Old Course
Each golf course has its own signature features, challenges, pros, programs and clubhouse facilities, including men's and women's locker rooms, pro shops, indoor and outdoor terrace dining options, and of course 19th holes. He added "You can play one course in the morning, tee up at the other in the afternoon…and then catch ESPN or the Golf Channel with your foursome as you enjoy a drink at the bar followed by dinner in the club dining room."
With both Broken Sound courses Audubon Sanctuary Certified, on any given day, golfers can get a glimpse of a variety of endangered and protected birds.
With both Broken Sound courses Audubon Sanctuary Certified, on any given day, golfers get a glimpse of a variety of endangered and protected birds. Recent sightings included the Red Crowned Parrot from Mexico (75 to 100 of them last year were spotted on The Old Course over a couple of weeks); Western Spindalis (Part of the Tanager Family); Ruby Throated Hummingbirds; Bananaquits (adult male) to the majestic American Bald Eagle.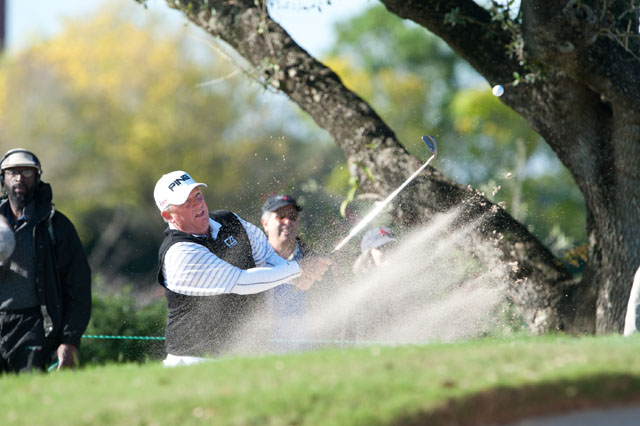 PGA Champions Tour action, like this shot by Mark Calcavecchia, is televised live from The Old Course on the Golf Channel to 170+ million households around the globe.
THE OLD COURSE - EXPERIENCE THE "PURE" GOLF ENVIRONMENT
As host to the PGA Champions Tour event, The Old Course at Broken Sound has seen universal acclaim from the world's best players. Those that play the eminent course discover the natural beauty of South Florida at its best through a landscape of woods, stone bridges, lakes and lagoons for an experience reminiscent of courses in Pinehurst, North Carolina. Generous rolling fairways, elevated greens, sculpted bunkers and an abundance of trees unique to South Florida are all incorporated into this 18-hole Joe Lee designed classic that tees up 110 acres of grass, the largest stand of natural Florida maple trees in the county, and 30-40 acres of lakes. Gene Bates's 2002 renovation gave the 6,800-yard, par-72 course more water, while infusing a look very uncharacteristic of South Florida golf courses.
Tucked away in an oak-lined setting just a few minutes from Broken Sound Club's gates, The Old Course is a golfer's sanctuary with the camaraderie and ambiance found in a traditional golf club in an unexpected private place. Members will say the limited membership to this course is as much a family as a private club.
"This is the most peaceful setting I've ever worked in the middle of one of the fastest growing areas in the country," noted Joe Lee upon completion of the course. The only sound that broke the silence was the sound of a golfer swinging his club. Hence the name, Broken Sound, was created.
Corey Pavin "up close and personal" with his caddie at the 2012 Allianz Championship
"Golfers look for a challenge, whether it's the Club player or members of the Champions Tour, and The Old Course presents that challenge with a group of par-3s that rival any throughout Florida," notes Sirius XM Radio Host Howard David who moved from Long Island to Broken Sound with his wife Phyllis 11 years ago. "It doesn't stop there. It's a course with island greens that will test all handicap levels and perhaps the finest greens in all of Palm Beach County. As a member, it's a joy to play."
Director of Golf John Skaf concurs. "The course has a beautiful natural look with many native grasses. There are no concrete cart paths, only those made of natural coquina shell."
The shapes of the ragged edges and design of the bunkers give it an Old World feel from the early 1920s and 1930s, and although it has very small undulations compared to most clubs around, the greens have been voted the best greens on the Champions Tour by officials the past several years. They are consistent and fast while also looking healthy.
"Golf purists love the intimacy they find here," noted Old Course member Phil Karp who moved from New York with his wife Paula 20 years ago. "It's a rarity in southern Florida to have a private course and not find a single home on the golf course. When you add in a world-class range and practice area, this is a golfer's dream."
Retired dentist Dr. Larry Moses added that The Old Course at Broken Sound provides a memorable experience every time you play it. "Allianz Championship champions Corey Pavin and Bernhardt Langer certainly had some of their own celebrated historic PGA Tour moments on our course and love returning each year."
"The course challenges you stroke by stroke; its varied elevations and chiseled bunkers fulfills the needs of the die-hard golfer," noted Terry Baltimore who moved from Harvey's Lake, Pennsylvania 19 years ago with his wife Soni. "With all the native flora, fauna and wildlife, the experience is peerlessly tranquil and serene."
Skaf noted that The Old Course presents a challenge for golfers of all skill levels, and members will tell you there is nothing like finishing a round and heading inside the magnificent 35,000-square-foot clubhouse with friends.
"For my career, I have traveled around the country and played many courses, but I always love coming home to The Old Course, my course and club," notes Sportscaster Dick Stockton who has been a member for 19 years.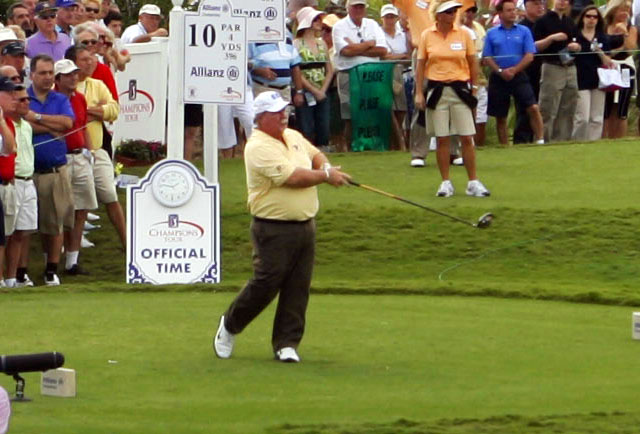 To date the best score on The Old Course at Broken Sound Club was by Craig Stadler who shot 63 in the 2007 Allianz Championship
While Skaf reported that to date the best score on this course was by Craig Stadler who shot 63 in the 2007 Allianz Championship, the most memorable moment he recalls at The Old Course was on May 7, 2009 when there were three holes-in-one on three different par-3s by three different club members within four hours of each other. "This was one incredible feat."
Skaf, who has also teed-up Greg Norman, Arnold Palmer and Lee Trevino to take on The Old Course challenge, notes:
Every hole is unique and looks completely different. It is located in the middle of the City, has no homes and resembles a northern look that is very untypical of Florida.
The best way to tackle this course is to avoid the fairway bunkering and to choose the proper club to get the correct distance required to hit the elevated greens.
The most challenging hole for skilled golfers on this course is #9, which along with #12 averaged the highest over par on a southern wind in the Allianz Champions event. This hole is extremely difficult off the tee with out-of-bounds right and water protecting the left side of the fairway. It measures 453 yards from the back tee and once a golfer gets lucky with the tee shot, their second shot is long and requires an uphill shot with forced carry. This hole plays over par in every event the Club hosts. Other challenging contenders are holes #2, #6, #12, #13, #14, and #15.
The recreational golfer will be pleased to find that there are only a small number of forced carries to get the tee shot in play.
The golf course does not favor either a righty or lefty. The course requires finesse as most of the greens are elevated and requires a great touch with the short game.
His personal favorite hole is #15. When a golfer stands on the tee, you would not know you are in Florida. There is a beautiful Oak that defines the left side of the fairway and tough attributes to challenge all qualities of players. The approach shot is to a mounded elevated green surrounded by trees.
Members personal favorite hole is #7, the most photographed hole at Broken Sound. This hole is a drivable par 4 for many; it has an instant risk or reward temptation from off the tee. It is drivable, but any wayward shot can end up in a hazard on both sides of the hole, water or sand or even over the green as the big hitters find out. It is very exciting to them to take on the challenge.
The Club Course is steps from residents' front door: the reason golfers move to Florida.
THE CLUB COURSE -THE VERY REASON WHY PEOPLE MOVE TO FLORIDA
Where Your Drive On The First Hole May Be Longer Than Your Drive Home
Steps from one's front door, Broken Sound's Club Course was designed by Joe Lee in 1985 and renovated in 2002 by renowned Golf Course Designer Gene Bates, and is a challenging course for golfers of all skill levels. Featuring 140 acres of turf with another 79 acres of lakes, the 18-hole landscape plays over 6,800 yards from the Championship tee with a par of 72. This world-class course, winding throughout the Broken Sound community, is surrounded by the natural beauty and wildlife of South Florida and features generous lush fairways, elevated Tif-eagle greens, tropical atmosphere, and large sculpted, intimidating bunkers that challenge beginning or expert golfers at every level of their game.
The Club's on-site Golf Academy includes instructional resources with lessons available from seven professionals, personalized video system and clinics throughout the year on its spacious driving range and practice area. Playing up to the clubhouse on the Club's signature 18th hole, golfers finish on a beautiful island green setting.
Director of Golf at the Club Course Scott Feller noted the beauty of the Club Course is well known throughout the Palm Beach County area. "Our members are very proud of the excellent condition and beauty of the golf course that is lush with large undulating greens and lavish flower beds, not easily found in the area. The diverse wildlife, predominately birds with the occasional otter, is quite the attraction outside of the course itself."
"This immaculate, well-manicured course is the ideal place to meet friends, make memories and…brag a little," said Harvey Rosenkrantz, an insurance broker from Wayne, New Jersey who has spent winters here with his wife Marcia since 2001 and plans to transition to full-time in the next few years. "I spend a lot of time getting tips from the on-site teaching pros; I like surprising my friends at my golf club in New Jersey with my new edge in my swing."
Feller reports:
Recreational golfers will find there are two holes that do not have greenside bunkers. The fairway runs up to the center of every hole except the signature par-3, 12th hole. This allows players the opportunity to run the ball up as long as they can keep it in the middle of the fairway.
Most challenging hole is the #9. It is a reachable par 5 for the longer hitter, often playing down wind. After a good tee shot, golfers must decide if they are going to lay-up or go for the green in two. If they decide to lay-up, they must choose their yardage carefully to ensure they carry the small lake in front of the lay-up area, avoid the two fairway bunkers on the right and hit it short of the water in front of the green. If they decide to go for the green, it is a forced carry over water all the way. There is a small bail-out area to the right of the green, but it does not leave an easy chip shot. Par is always a good score on the 9th hole.
Best way to tackle the course is to keep the ball in the fairway off the tee. If a player finds himself or herself in the thick rough, it can certainly cost even the best of players a stroke. Using the 3 wood on some of the shorter par-4s for accuracy is always a smart strategy.
The golf course favors a right-handed player. There is water on the left-hand side on 10 of the 18 holes. Long hitters will always find a nice advantage on the par-3s as well as the par-5s. However, finesse is required around the greens as there are only two holes without a greenside bunker.
His favorite hole is #18. It is a beautiful finishing hole and most photographed. The approach shot is hit to an island green with beautiful landscaping and the clubhouse in the background.
Members favorite hole is #3 is an average length par-3. Water runs down the left side, but there is still room to miss the green left. It has all of the beautiful features of Florida golf (water, palm trees and a bunker) without the difficulty that most holes have.
Best Score: 65
Weighing in with his favorite holes, Director of Maintenance Joe Hubbard who has been at Broken Sound since 2004 shares that "for aesthetics, holes #1 and #18, and for playability holes #11 and #17. You get that natural beauty on #1 and on #18 as you come into the island green with landscaping all around and a view of the clubhouse. It has the "wow" factor as the player contemplates his/her treacherous shot over water. Holes #11 and #17 can be played with a fade or draw or straight, but into two beautifully laid-out greens with some character to them. They are fair tests of any golfer."

With 140 acres of turf and another 79 acres of lakes, the 18-hole landscape at the Club Course plays over 6,800 yards from the Championship tee with a par of 72.
SERIOUSLY GREEN ABOUT THE GREEN
Broken Sound Club takes its mission seriously regarding environmental sustainability and has led the club industry in "green" initiatives.
It is only the second golf facility in the U.S. and 14th in the world to be GEO Certified – the sustainability assurance of the international Golf Environment Organization, an international non-profit dedicated to supporting sustainability in the sport of golf. Bringing clear insight, guidance and golf's most constructive, credible and comprehensive certifications, GEO is a leading resource for sustainable golf solutions.
Jonathan Smith, the Scotland-based CEO of GEO noted that "the management team at Broken Sound has demonstrated how every golf club can transition to increasingly sustainable practices -- even in relatively short timeframes."
"Their vision, commitment and teamwork have reduced resource consumption as they gradually naturalize the golf courses," Smith continued. "Their flagship composting and water treatment projects will have tremendous added benefits for the club and the local community and demonstrate both innovation and determination to make a significant difference.
Broken Sound has received Audubon Sanctuary Certification for both of its golf courses, reclaimed water for its golf courses and common areas, and established the first industrial composting project in Florida. It also received honors from the Florida Department of Environmental Protection for recycling 92 percent of its waste — about three times the statewide recycling rate for the commercial sector - and was a Green Corporate Citizen award finalist at the Corporate Recycling and Waste Conference.
After investing in the composting machines and staff to convert leftovers and course wood into compost that can be spread on the fairway, John Crean, CCE, the Club's General Manager and Chief Operating Officer, declares the Club's trailblazing recycling/sustainability plan a tremendous success. In an article published in the Sun-Sentinel, he reported that "not only are things looking greener, but the Club has been able to reduce its use of pesticides and petroleum-based fertilizer that can cause water contamination. When you get an opportunity to protect the environment and make dollars, that's something that I'm going to do every day."
Teaming up with Allianz tournament leadership that launched a major green initiative in 2012 when it retained the Smart Group, an organization of ecologists, scientists and educators and academic researchers, the Allianz Championship became one of the most environmentally-friendly events of its kind and the "greenest" PGA tournament with 92 percent of tournament materials recycled.
"Because Broken Sound is light years ahead in the 'green' space from other golf communities, we were able to trail blaze in the 'golf' space during our 2012 tournament," noted Allianz Championship Tournament Director Ryan Dillon. "The collaboration was peerless in the tournament community, and we look forward to reducing more of our carbon footprint and increasing recycling percentages in February 2013."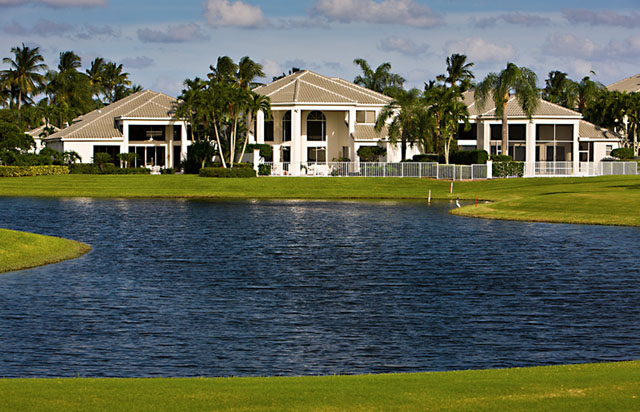 Broken Sound features 27 lushly landscaped intimate residential villages, each with its own character, just a short cart ride from the main clubhouse.
AVID GOLFERS WILL TELL YOU…
Why LIVE LIFE Anywhere Else?
From exquisite custom estate homes, villas, patio homes to town homes and luxury condominiums in 27 lushly landscaped intimate residential villages, each with its own character, more than 1,600 residences are just minutes away from the main country club clubhouse boasting choices of indoor and outdoor dining, poolscape and bistro, club golf courses, a spa and fitness center and 23 tennis courts.

At Broken Sound, your home life, sporting life and social life complement each other perfectly.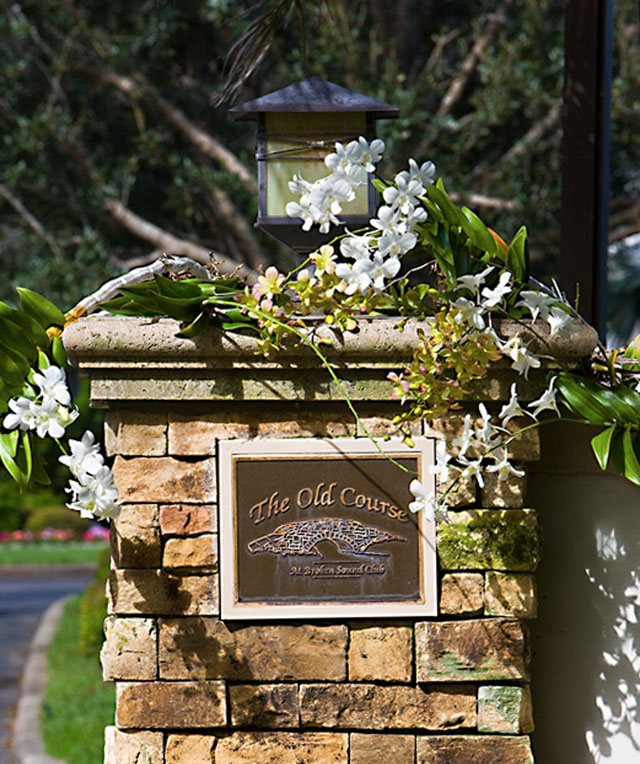 With the native flora, fauna and wildlife at the Certified Audubon Sanctuary, the Old Course experience at Broken Sound Club is peerlessly tranquil and serene.
"It's a warm, inviting place where friendships are made and last for a lifetime," shared Cindy Braun who has lived at Broken Sound Club with her husband, internist and caridologist Dr. Jeffrey Braun for 24 years where they raised five children and she chairs the tennis committee.
"Whether you're on the golf course or on the tennis court, playing cards, at a cocktail party or a barbecue, participating in some of the hundreds of activities scheduled each month, you always feel welcome. Your home life, your sporting life and your social life complement each other perfectly, and new and rewarding experiences are always just around the corner."
Member Paul Budin, who he and his wife Andrea have called Broken Sound home since 1999, added that "as much as I love living 'inside' Broken Sound, I know I am just moments away from an exciting world of art and culture, including museums and annual arts festivals and special events, concerts, universities and theater mixed with the finest restaurants, movies and nightlife, shopping and recreation. My friends, family and I will feel right at home – wherever we are in Boca Raton, Palm Beach County and South Florida."
"I travel quite a bit for business and vacation, and so having convenient access to three international airports plus a private airport in Boca Raton just minutes from my home was key in my decision to move to Broken Sound," shared Mark Salomon, a real estate developer from Athens, New York who has been living at Broken Sound for 10 years with his wife Patricia. "I also like that we have all A-rated elementary, middle and high schools within a few miles."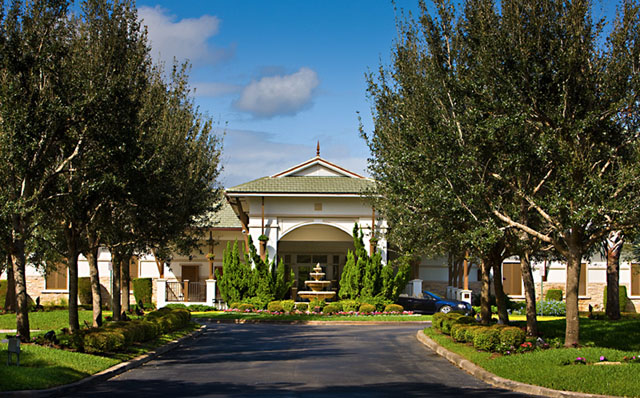 Tucked away in an oak-lined setting just a few minutes from Broken Sound Club's gates, The Old Course is a golfer's sanctuary with the camaraderie and ambiance found in a traditional golf club in an unexpected private place.
$6 MILLION+ TRANSFORMATION MAKES NEW POOLSCAPE AND BISTRO A TRUE "OASIS ON THE GREEN" AT MAIN COUNTRY CLUB
Main Clubhouse dining room overlooks the green.

Members and guests at Broken Sound Club recently celebrated the Club's newly completed extensive two-acre, resort-style poolscape and Bistro oasis, the most recent phase of a $6 million expansion spearheaded by the Club, designed by Peacock + Lewis Architects and constructed by The Weitz Company. It follows the Club's last $13 million enhancement completed in 2011 that included the addition of a new clubhouse wing and upgrades to the design and décor.
Broken Sound's new expansive poolscape includes a five-lane lap pool, kids' pool area, heated whirlpool and a contemporary free-form pool accented with a tropical style grotto, lush landscaping and waterfalls. The 254 Valencia-style chaise lounges surround the entire pool area complementing the luxurious ambiance of the new facility.
John Crean, CCE, General Manager and Chief Operating Officer refers to the children's area as the "Disney Waterpark of Boca Raton". The space consists of a water slide, a splash pad and a jungle gym.
What was once the "Pool Bar" has been transformed into "The Bistro", a casual 4,000-square-foot restaurant with an outdoor terrace featuring both bar and table seating, three 70-inch and two 52-inch flat screen LED TVs, Wi-Fi, Bose Surround Sound and a top shelf bar. The interior showcases an ultimate avant-garde design with an open plan kitchen and a variety of seating options including banquettes, bar seating and tables overlooking the pool deck. With a display grand enough to compete with a full-service yogurt store, The Bistro serves up a selection of nine flavored frozen yogurts with 30 topping choices at its self-serve yogurt corner.
SPA & FITNESS CENTER 2013 DEBUT
The final phase of the renovations will conclude with the grand opening of a new 35,000-square-foot spa and fitness facility in February 2013. Named "The Retreat", the spa was conceptualized by Peacock + Lewis Architects, constructed by The Weitz Company, and treatment concepts and protocols, product selection, and operational fluidity created by American Leisure that has developed and managed spa programs for the Spa at Fisher Island, Spa at Williams Island in North Miami, The Spa at the landmark Plaza Athenee, NYC and Setai Club & Spa, Wall Street. To offer a diverse menu of services and treatments, American Leisure is creating signature massages, facials, and wraps using cutting-edge esthetics equipment for women as well as a special "men's only" spa treatment and services menu that includes traditional barber service and manicure and pedicure options.
For women there is a salon with stylist, a hair blow dry bar and manicure and pedicure treatments will feature the Blend Bar Mix Station where every guest designs and creates their own exfoliating Body Scrub and Whipped Body Crème using all natural, vitamin-rich grape seed oil based ingredients and high quality aroma oils for the ultimate handcrafted body product. A choice of six aromas at the Blend Bar, including the signature, Broken Sound Silk made with Lemongrass and Eucalyptus.
Just outside the door of the spa within the 35,000-square-foot building, is the new fitness center offering the latest in fitness equipment, scheduled aerobics classes and by-appointment private training sessions, a dedicated Pilates area, and a state-of-the-art spin room with interactive video that would rival any area residential community spa.
FOR THE YOUNG SET
Parents and grandparents love the convenience of having on-site children's golf, tennis, basketball and swim programs for youngsters, tweens and teens. The after-school, holiday and summer programs, along with one-on-one personal instruction, are very popular.

Broken Sound is a designated prestigious 5-Star Platinum Club of America; a recognition awarded to only 150 out of 5,000 private clubs in the country.
FROM THE TOP
Crean, the trailblazing lead behind the major developments at Broken Sound Club, is known throughout the community and club industry for his commitment to sustainability and for leading Broken Sound to the prestigious Five-Star Platinum Club of America status. Born during the Generation X period, General Manager Crean understands the significance of embracing and responding to evolving demographic trends when attracting prospective members and retaining current ones, the lifeblood of any private country club.
"Broken Sound has always focused on delivering high quality and valuable experiences to its membership," noted Crean. "By utilizing new initiatives, social and recreational programming, technologies and services, and maintaining the culture of a 'community lifestyle', the Club remains relevant and enviously financially stable enabling us to take advantage of opportunities that best serve our members."
But Crean declared, "the best part of Broken Sound is that members enjoy all of the prestige they desire in a private golf club community without any pretense. From the first visit, you know we are the 'friendly' club!"
Broken Sound Club is located at 2401 Willow Springs Drive, Boca Raton, Florida 33496. For information on Broken Sound Club, its residential villages, and club membership program and to arrange a "member for the day" opportunity available exclusively for Florida Golf Magazine readers, please contact Maureen Schreiber,
Director of Membership at (561) 241-6820, or Maureen_Schreiber@BrokenSoundClub.Org.