In Northeast Florida, just west of St. Johns River, in the quaint little town of Palatka, you'll find a vintage Donald Ross golf course that offers an authentic experience at a very reasonable price.
Palatka Golf Club was designed by Donald Ross in 1925. In a natural, clutter-free environment, its 18 holes gently tumble over the sandy ridges and wrap the tranquil woods of Ravine Gardens State Park.
The experience at Palatka Golf Club revolves around the game's traditional cornerstones: a reasonable price, interesting holes, and a pleasant staff that loves golf as much as you do. The course can be played quickly and enjoyably, offering golfers the best thrills of the game without taking up the day.
Palatka Golf Club is maintained and managed by Bobby Weed Golf Design (BWGD). Robert C. Weed, Jr., ASGCA is a 59 year old golf course designer, builder, and protégé of Pete Dye.
Bobby Weed ASGCA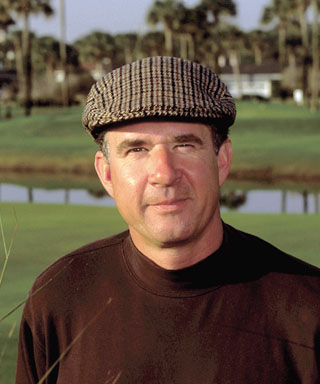 "Bobby Weed" never thought he'd be managing a golf course, but neither was he going to let another historic area course designed by Donald Ross close. In this case it was the Palatka Golf Club, built in 1925 and one of a dozen or so Florida courses Ross designed in the 1920s and 1930s.
"I sat around and watched the Ponce de Leon [in St. Augustine] close without doing anything about it," said Weed, who designed area courses such as the Slammer & Squire and Fleming Island Golf Club, and renovated Timuquana and the Ponte Vedra Inn and Club Lagoon Course. "Maybe I could have done something about that if I had gotten involved. I wasn't going to let it happen again."
So a few years ago when Weed heard that Palatka was in danger of being closed by its owner — the city of Palatka — he swung into action. After forming a coalition of business and community leaders to back him, he convinced the city commission to let him manage a course that had suffered from years of neglect and had dropped from playing 65,000 rounds per year in the 1980s to barely 15,000 rounds annually.

Designed by Donald Ross and built in 1925, the 18 holes of Palatka Golf Club gently tumble over the sandy ridges and wrap the tranquil woods of Ravine Gardens State Park.
Weed's design-partner Chris Monti said, "I don't know if the course was doomed to close or not, but it certainly had suffered sufficient losses to where the city was looking for alternatives. So they issued a request for proposals from people to lease the golf course. We responded with a proposal as did several other companies, but no one wanted to lease the golf course. All of the proposals dealt with fee for service management.

The 357 yard, par four 11th hole of Palatka Golf Club.
So the city is still responsible for the golf course' operating costs and its operating performance, but we are responsible for its day to day management. Fortunately over the last two and a half years we have shown substantial increases in rounds, revenue and the membership roster. By most any metric the golf course is seeing substantial improvement financially, and by in large that's because it's seeing substantial improvement from a conditioning standpoint."
After overhauling the maintenance model, revamping the clubhouse staff and improving customer service, Weed, Monti, superintendent Dana Anderson, general manager Andy Heartz and head professional Paul Trettner have brought the course from the brink of closure to an example of what Weed says will be a resurgence of the public golf experience in the U.S.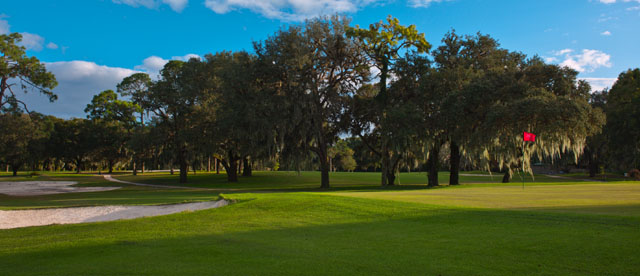 The 178 yard, par three 14th hole at Palatka Golf Club in Palatka, Florida.
"This winter the course was in its best shape in decades and this summer we start converting the fairways to a better strain of bermudagreass. Golfers are responding to the improvements," said Weed. And now the par-70, 5,862-yard course, dropped cozily into a 90-acre tract, is drawing back long-time customers who had grown disenchanted with patchy greens, indifferent fairway conditions and ragged bunkers. There are also a lot of newer players who have heard of the short, quirky course by word of mouth and are eager to play a track that doesn't require 300-yard drives to have a chance to score.

The very inviting 189 yard par three 3rd Hole of Palatka Golf Club.
Trettner said, "The Senior Azalea Amateur and the Azalea Amateur, the club's two signature events, attracted full fields last year and by the end of this year, more than 40 fund-raising tournaments will be played at Palatka to benefit charities related to first responders, high school and college booster clubs, health, children's services and churches.
"This course is not only a place to play golf but it does the community a lot of good," said Bill Buck, who has played Palatka since 1958. "A lot of charities depend on their golf tournaments to raise money. This course is an important part to a lot of people's lives who don't play golf."
In terms of history, few courses in the area can match Palatka. World Golf Hall of Fame members Walter Hagen, Mickey Wright, Tommy Bolt and Greg Norman have played there and so have major champions John Daly, David Toms, Fuzzy Zoeller, Tom Lehman and Steve Elkington.
Weed said "There is still a place for a small public course in good shape charging modest fees." The tables have turned and Palatka Golf Club can be an example now, especially since it's one of Ross' most clever designs, playable for juniors or beginners, but all scratch players can handle from the back tees.
"This is what I'd call a 'comfortable' course," Trettner said. "You don't have to be a bomber off the tee, but you need a short game and you better have your putter working."

The 438 yard, par five 5th hole at the Donald Ross designed Palatka Golf Club.
Almost all of the fairways are generous in width. There are no forced carries over hazards off the tee or into the greens. Only one par-4 (No. 18) is longer than 400 yards and the three par-5s average 461 yards. There are five par-3s, none longer than 190 yards.
"You can bounce it along the ground the entire course," Weed said. "You don't have to put it in the air." But there's no overpowering this course. The hilly, undulating fairways kick errant tee shots into the wooded rough and the small greens can be difficult to putt.
"This course was too important to the heritage of North Florida to let the opportunity go by," Weed said. "We knew it had tremendous potential and we wanted to be part of the solution, rather than watch it go away."
So if you're looking for a course that is big on fun and light on your wallet, find your way to the great golf at Palatka Golf Club!
Palatka Golf Club
1715 Moseley Ave., Palatka, FL 32177
palatkagolfclub.com (386) 329-0141
Designed by Donald Ross - 1925
18 Holes, 5862 yards, Par 70