Steve Whidden, PGA Master Professional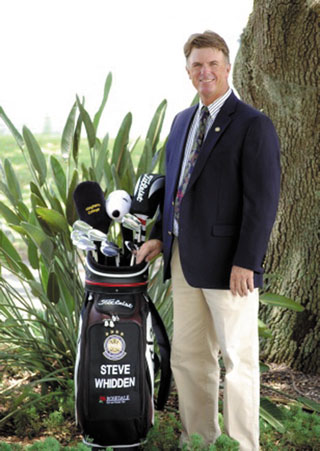 Don't Practice
HAVE A RECITAL
Golf lessons alone do not work. They are part of the puzzle to playing better, but only part of the puzzle. Golf is a motor skill, which means that the way that you swing a club, is formed by an image in your brain. It also is a skill that requires knowledge, feedback ad stimulation. Let me explain.
If you are struggling with part of your game, go see your PGA Teaching Professional for a lesson. But what I want you to leave with is this: 1.) an understanding as to truly what is happening wrong 2) what the correct motion is 3) a drill (s) that you can practice that give you instant feedback if you are doing it correctly 4) and finally and most importantly a practice/recital plan which will break the practice into two parts. First, the implementation of the skill through drills. Two, and more importantly a practice recital on the range that simulates actually playing the game. This is what deliberate practice is, and it is the fastest way to long term success.
For example, if you have trouble topping the ball. Find out why you do it, how to fix it, drills to work on and a recital routine. The 20 minute practice session may look something like this.
You have been taught that the reason you top the ball is due to the fact that your club head bottoms out too much behind the ball, and is on its way up at impact. You learn that the proper way is to hit the ball and then the grass after the ball. The drill is to put a tee ½ inch in front of ball and work on hitting the ball and knocking the tee out.
The practice/recital session should be broken in half:
• Practice 10 minutes on the drill
• Practice 10 minutes hitting each range ball like you would on the golf course. Stand behind the ball, pick out a target, take a practice swing, swing and evaluate the divot. Now go to another target with another club. Same routine. Your brain has just practiced the skill through a drill for 10 minutes, now it needs real life recital to get it to stick. And it will stick if you follow the plan.
About Steve:
Steve Whidden, 2010 Southwest Florida PGA Teacher of the Year, whiddengolf.com
Dir. of Instruction, The Steve Whidden Golf Academy, Rosedale Golf & Country Club,
5100 87th Street East , Bradenton, Florida 34211,~(941) 756-0004, swhidden@pga.com