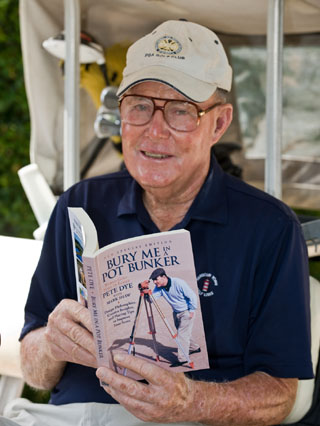 World renowned Golf course designer, Pete Dye and the new very special edition of his autobiography Bury Me In A Pot Bunker.
A new special edition of World Golf Hall of Famer Pete Dye's autobiography Bury Me In A Pot Bunker has been released. Written with co-author Mark Shaw, this book not only chronicles the evolution of 25 magical Dye courses including The Ocean Course at Kiawah, The Players Stadium Course featuring the infamous island green 17th created by Pete's wife Alice, Whistling Straits, Teeth of the Dog, Crooked Stick and Harbour Town Golf Links, but also includes creative insights and design philosophies from the world's most challenging golf course architect.
"By understanding the architect's mindset while creating the holes, golfers can improve their game playing our courses or any courses using sound strategies instead of just winging it," Dye said. "If players pay attention, they can out-think me or any designer who's trying to hoodwink them into bad shot selection."
Packed with dramatic photos from Ken E. May's Rolling Greens Photography, Bury Me In A Pot Bunker features quotes from Tiger Woods, Rory Mcllroy, and many other PGA Tour headliners as well as humorous "Dye-isms" marking Dye's remarkable career, one that has seen his courses host 28 Major Championships. No wonder Golf Digest's Ron Whitten says of Dye: "No other [golf course] designer continues to re-invent his architecture the way Pete Dye does."
Intended for golfers of all skill levels, Bury Me In A Pot Bunker will, as Greg Norman says, "Change forever the way players look at the game of golf."