(continued from page 14) (NGCOA) and members of the Florida Golf Course Owners Association (FGCOA) were also in attendance.

To help promote open dialogue about accessibility issues for golfers, the keynote speaker at the awards banquet was Allison Keller, the Assistant General Counsel for the PGA Tour and member of the Alliance's executive committee.
The National Alliance for Accessible Golf is an organization focused on the inclusion of people with disabilities into the game of golf. The Alliance is administered by a Board of Directors representing the major golf industry organizations in the United States, organizations that provide services for people with disabilities, and individuals and others who advocate for the inclusion of people with disabilities into society.
Another interesting aspect of the golf tournament was that a few of the golfers, while competing in the tournament, were riding one-man adaptive golf carts onto the greens and through the sand traps. Unlike your average golf cart, these specially designed, single person golf carts have less impact on the greens and weigh less, (per square inch) than human footprints. There were two different brands of adaptive golf cars being used in the tournament, SoloRider and E-Car.
And, what is an adaptive golf car? To best understand an adaptive golf car [or single rider golf car as they are commonly called], we need to consider the mobility impairment…a golfer who has no legs or does not have the use of his or her legs [paraplegic] cannot operate a standard golf cart.
A staunch supporter of the event, Tapan Banerjee, Ph.D, Executive Director of the U.S. International Council on Disabilities is shown here playing golf with his wife, using an adaptive golf car called an E-Car.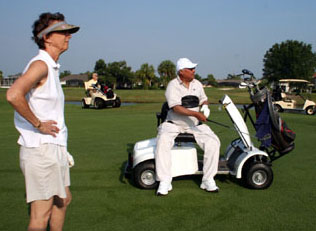 The adaptive or single rider golf car enables the mobility impaired to operate the car. A stroke survivor may only have use of one arm and hand, so the car must have hand controls for acceleration and braking and be able to be steered by either hand. Both, the SoloRider and E-car have those controls. This type of golf car must also have a swivel seat for ease of entry and exit. SoloRider has a unique seat that not only swivels, but also can support a golfer from seated to standing in an infinite number of positions.
Both of these cars, because of their design, put no more pressure on the turf than the pressure of a person standing.
Unlike accessible restrooms and ramps, single rider golf cars could help make it possible for the golf course owners to generate revenue from many of the golfers who are mobility impaired that currently do not have access to their courses. Equally important, aging seniors who are experiencing problems with hips, knees and stamina can use the adaptive or single rider golf car as well. Anyone can use an adaptive or single rider golf car. (continued on next page)